In-line/off-line mapping-type birefringence measurement system
KAMAKIRI STS-LS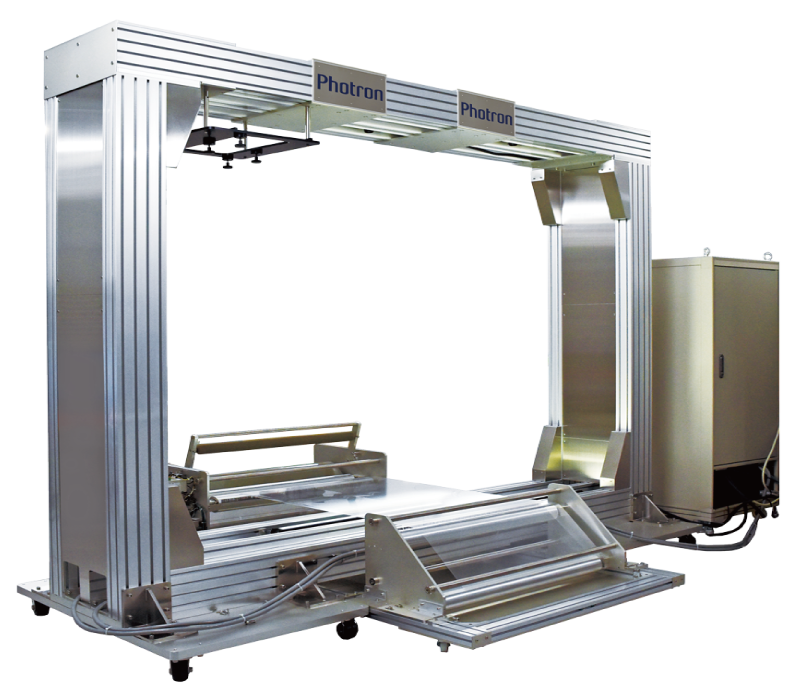 For in-line quality and production control
Full-width and full-length inspection for irregularities that cannot be visually detected
KAMAKIRI STS-LS is the only system capable of inspecting the entire surface of films produced continuously for a long period of time. It supports a live display function to check results on the site and an pass/fail judgment function, to enable early detection of defects.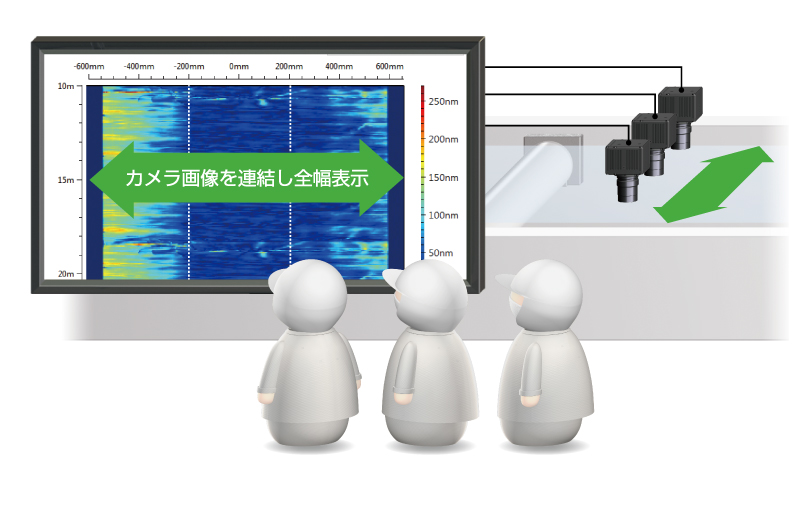 01
In-line full area inspection
& defect detection
Connect multiple cameras according to the width of the film. The monitor screen displays the measurement results of all cameras at once in real time, therefore defective area can be immediately confirmed.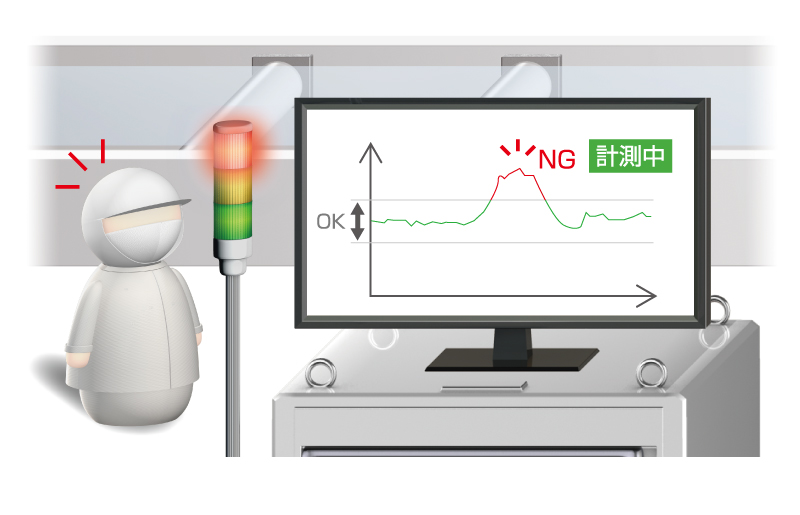 02
Inspection of retardation
If a retardation defect is detected, a warning light or screen will immediately alert the person in charge of the site.
Once production begins, constant inspection is required. The large amount of data generated during such continuous inspections is managed in storage. Buffer storage prevents data from being lost even when recording capacity is insufficient, thus ensuring reliable operation.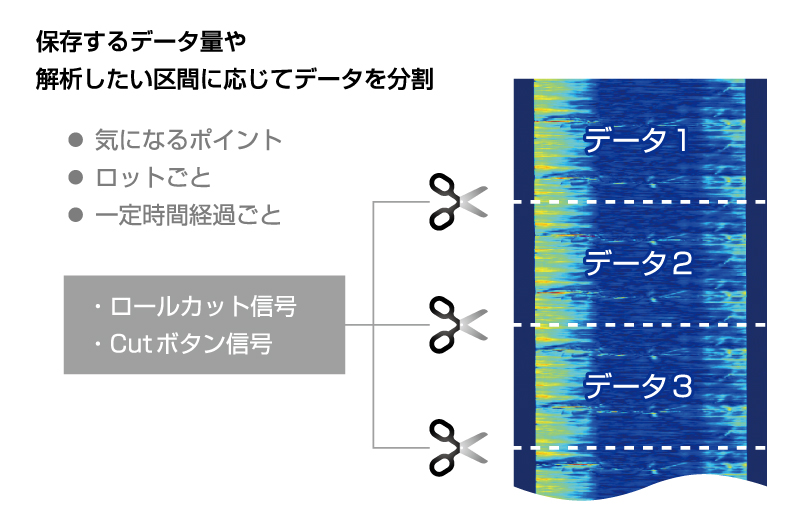 04
Auto data save by production lot
By inputting the film cutting signal into the system, data can be divided as the end of the production lot (beginning of the next lot) and data can be automatically saved by every production lot. The date and time are automatically recorded, making it easy to identify and review the data.
05
Live display useful on production line
Items that need to be known immediately on site, such as real-time display of optical strain and trend graphs (width direction and transfer direction) as in conventional inspection equipment, can be viewed on the monitor.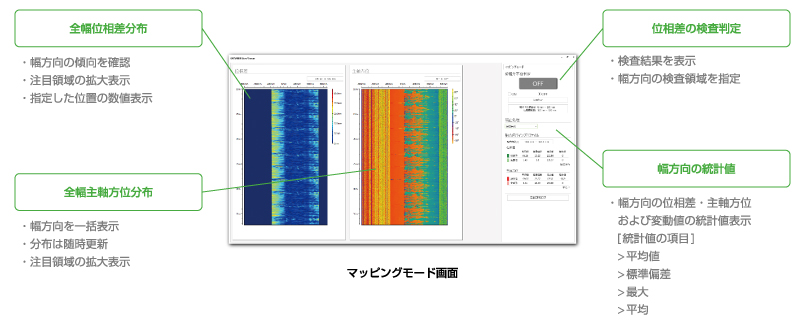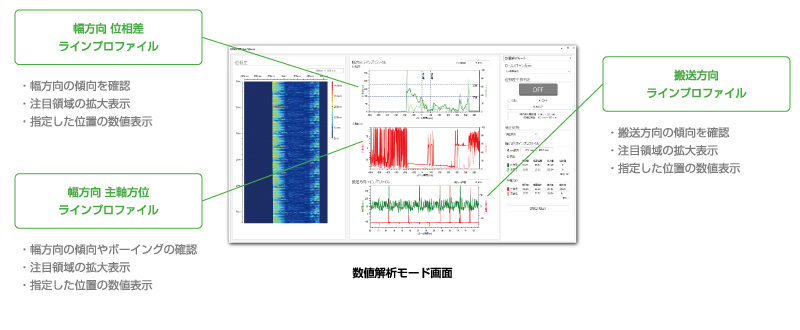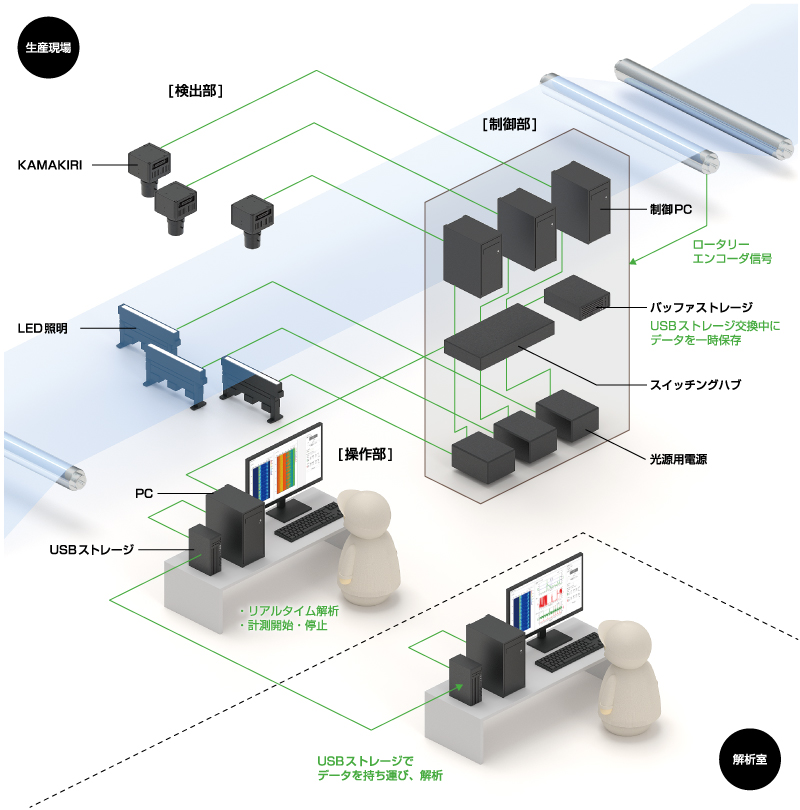 06
Data flow and operational image
We provide system operation and mechanisms suitable for your production line situation.
Spatial resolution and storage are determined according to the degree of irregularity to be detected and the production volume.
We will also manufacture an enclosure that can be installed based on the pass line and the space available in the factory.
If your research topic involves confidential information, we can conclude a Non-Disclosure Agreement (NDA). Please feel free to consult with us.
Specifications
Model name
Major application

Full-width and Full-length Inspection
Production line evaluation

System features

1. Full-width and full-length inspection
2. Detailed data analysis
3. Full-width live monitoring

Measurement item

Retardation, Principal axis orientation

Retardation measurement range
Retardation repeatability

<士1nm 
*Performance evaluated under our specified measurement conditions with a reference retardation plate

Principal axis orientation measurement range
Principal axis orientation repeatability

<土1° 
*Repeatability for retardation values of 10 nm or higher

Center wavelength for measurement

543nm 
*Please contact us if you wish to change the center wavelength.

Number of measurement points
Maximum measurement width at line scan

Approx. 600mm
*Measurement width per one camera

Supported transport speed

~30m/min
*Please contact us if you wish to use a faster transfer speed.

Software [Japanese/English]

KAMAKIRI Live Viewer , etc.

Customization achievement

Analysis system for films with a width greater than 5m.
Algorithm development for detecting characteristic birefringence irregularities.
Catalog & Company brochure Download
Category
#

Full-length, full-width film quality control solutions

#

In-line/off-line mapping-type birefringence measurement system

#

Birefringence Measurement System

#

Film