Feature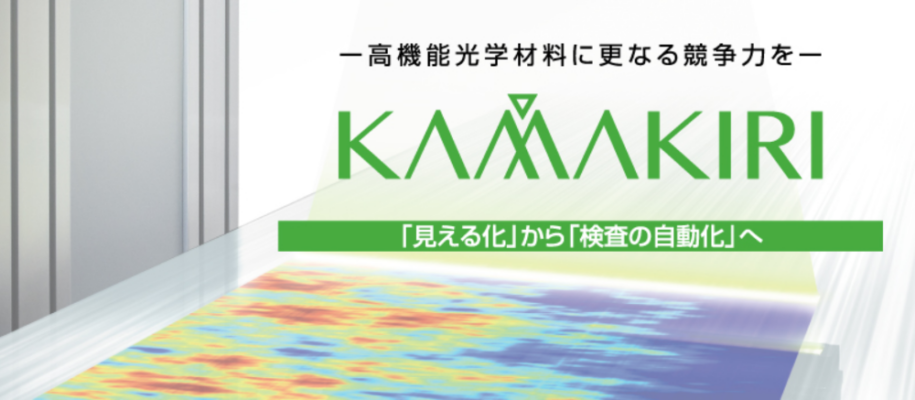 In-line/off-line mapping-type birefringence measurement system KAMAKIRI
KAMAKIRI provides added value
"High-speed mapping" takes birefringence measurement to a new stage
From "Visualization" to "Automated Inspection"
Prevention of outflow of defective products & quick detection of defects
As displays become higher in resolution and contrast, and as manufactures improve image quality, a high degree of phase shift and principal axis orientation uniformity within the film plane is being pursued.
Furthermore, from an environmental perspective, it has become important to designate production lots to be disposed of and film trimming areas.
By using KAMAKIRI, which combines a unique polarization high-speed camera and scanning system, it is now possible to inspect and record birefringence in the film plane with high accuracy in an extremely short time, both on the production line and in the research lab.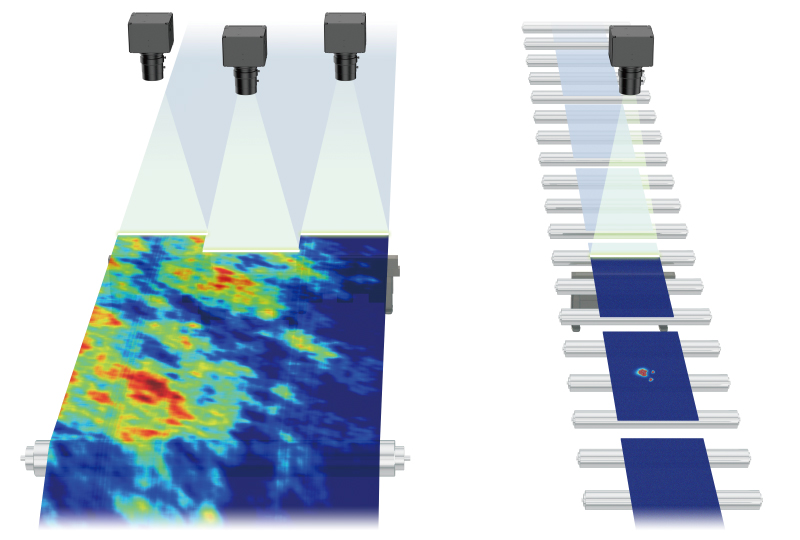 Numerous installation results
Since its launch at the end of 2014, more than 50 KAMAKIRI series products have been installed by optical film manufacturers and glass/lens molding manufacturers in Japan, Korea, and China.
Especially for optical film manufacturers, there are many different types of production lines, each with different requirements.
By confirming the status of customer's production line, we can propose the optimal system configuration.
We have manufactured and installed small systems for 200mm width measurement and large systems exceeding 5m width.
Case Study 01: Full-length and Full-width Warranty on Film Shipment
LCD panel makers have requested that optical film makers guarantee the entire phase difference and principal axis orientation, and KAMAKIRI is increasingly used to inspect the entire film surface.
[Testimonials]
・Our efforts to acquire the entire film surface data have led to a better business relationship with LCD panel manufacturers.
・When defects occurred, outflow of defective products was prevented within an appropriate production lot range.
・The ability to see live measurement results allowed us to immediately detect and resolve any problems.
Case Study 02: Incoming inspection
Manufacturers that process film have often suffered from inconsistent processing quality due to lot-to-lot fluctuations in purchased film. Although it is desirable to inspect the entire film roll during incoming inspection, conventionally it is only possible to cut out a portion of the film and evaluate it, and it takes several hours to inspect a sample as small as A4 size, so a simple and speedy inspection device has been desired.KAMAKIRI is increasingly being used as a tool for incoming inspection and selection of films to be used in a short time on the entire roll or as a cut-out sample.
[Testimonials]
・We were able to determine the grade of incoming rolls based on our own standards and apply them to the appropriate materials.
・We were able to isolate the cause of inconsistent processing quality and make specific demands in negotiations with the raw fabric manufacturer.
・By introducing KAMAKIRI to the rewinding machine for inspections, inspections were completed quickly, in about two hours per roll.
Full support until introduction
We have received many requests from customers who want to confirm in advance the effectiveness of the introduction of an inspection system that is being introduced for the first time. We offer an evaluation of cut samples free of charge for the first time. Many of our customers who have introduced KAMAKIRI to their production lines had implemented the tabletop type KAMAKIRI in advance, checking the effectiveness of introducing film surface inspection, creating their own Pass/Fail judgment criteria, and determining the judgment algorithm. The tabletop type KAMAKIRI can be converted to an in-line type, which has the advantage of eliminating operational concerns and establishing an in-line inspection system with a low investment.
[Introduction Study Flow]1. Discussion
✓Identify issues faced by customers
✓Preliminary study of detectability
✓Consideration of models for sample evaluation
2. Sample evaluation (first time free of charge)
✓ Evaluation at our demo site
✓Typically, evaluations are conducted on a tabletop type
✓ Reporting of sample evaluation results
3. Specification review
✓ Model selection
✓ Confirmation of customization
✓ Confirmation of installation environment
✓ Adjustment of specifications
4. Preliminary evaluation based on assumed installation specifications
✓Preliminary evaluation using system with specifications similar to those of the installed system
Periodic inspection and maintenance
We have established a service system to ensure that our customers' equipment always operates comfortably and can be repaired unexpectedly. We provide periodic inspections and replacement parts according to the customer's equipment model and operation plan. Please consider a "Periodic Inspection and Maintenance Service Contract" when you introduce our system.