Photonic Crystal Polarizing Optical Components
True Zero Order Waveplate/Ultra-Violet Polarizers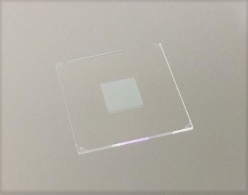 Photonic crystal waveplates are reliable and perfect zero-order waveplates with small incident angle dependence.
For example, a zero-order half-wave plate made of quartz for a wavelength of 266 nm in the ultraviolet region would be about 11 μm thick, but a photonic crystal is deposited on a quartz plate, making it easy to handle.
In addition, since the material is composed entirely of inorganic materials such as hafnium oxide, it remains unchanged even at high temperatures of 400°C and has a high degree of reliability.
The insertion loss is comparable to that of a quartz plate, and multiple axial orientations can be provided on a single element.
Polarizer Specifications
Operating wavelength

> 250 nm
(One wavelength, in the range above)

Extinction ratio

≧ 1000 ※ Valid within the ±1% band around nominal operating wavelength
(customizable)

Transmittance
Incident angle
Thickness
Smallest feature size
(for patterned element)
Damage threshold

10mW / 100 μm2 @ λ=355nm (typical)
Waveplate Specifications
Operating wavelength

> 250 nm
(One wavelength, in the range above)

Retardation tolerance
Transmittance
Incident angle
Thickness
Smallest feature size
(for patterned element)
Damage threshold

10mW / 100 μm2 @ λ=355nm (typical)
Catalog & Company brochure Download
Category
#

Next-generation optical communication solutions

#

Photonic Crystal Polarizing Optical Components