High-Speed Polarized Interferometer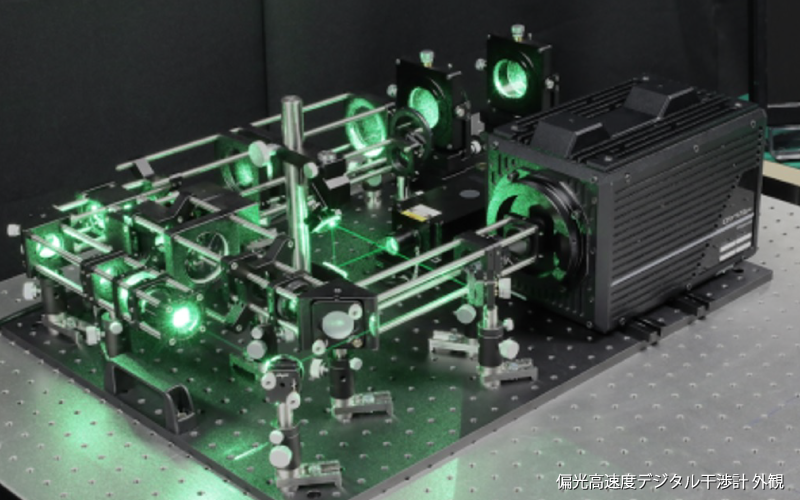 Unique interference system sustained by our original "CRYSTA Phase Optics". The product includes software: "CRYSTA phase viewer" for system operation and "CRYSTA Phase Analysis" for advanced analysis of interference fringes. Its high-speed real-time capabilities allow the evaluation of fast-moving dynamic phenomena.
Specifications
Model name

High-Speed Polarized Interferometer

Measurement Area range

40×40mm, 80×80mm,160×160mm *Please contact us for wider area measurement

Phase Unwrapping Calculation

Available (high-speed mode, high-precision mode)

Focal position

Fixed
*Changes to suit the subject are on request.

Maximum shooting distance
Measurement wavelength
Maximum number of measurement points
Frame rate with maximum number of measurement points
Maximum frame rate
Minimum exposure time

369nsec *Laser power should be confirmed

Memory size
Digital interface
Trigger mode

Manual trigger (Start, Center, End, etc.)

External signal input

Trigger signal (TTL/Switch), Sync signal

Software main features

Live playback, Frame rate setting, Exposure time setting, Trigger mode setting,
Image loading, Monochrome data playback, Phase data playback,
Phase unwrapping, Monochrome and phase image overlay, Data save

Bottom area

600 x 450mm
*50mmφ standard type, excluding target mirror on the subject side

Weight

20kg~
*Weight is subject to change when measuring range is expanded.

AC power supply

100V ~ 240V, 50Hz ~ 60Hz, 120W

DC power supply
System Configuration

Polarization camera CRYSTA PI series
Interference optics CRYSTA Phase Optics
Control software CRYSTA Phase Viewer
Analysis software CRYSTA Phase Analysis
*Optical system can be arranged according to the subject.
*Optics components can be exchanged by the user.
Catalog & Company brochure Download
Category
#

偏光高速度デジタル干渉計

#

High-Speed Polarized Interferometer

#

sound field